50K Elevation Gain: 4,392 feet


The 50K course is comprised of approximately 25 miles of singletrack trails, approximately 2.5 miles of wider, less technical trails/other, and approximately 3.5 miles of logging roads. Technicality ranges from smooth surface, to grassy underlayment, to narrow, uneven, rocky and/or loose surface. During "wet" years, the water crossings are between miles 5 and 8. There is a drop bag station at mile 14.8 (Aid Station #3@ the start/finish area).
The 50K relay is a 2-person relay mimicking the 50K course, with the relay handoff happening at Aid Station #3, located back at the Start/Finish Line. Runner #1 completes all of the lower trails and runs through the Start/Finish line back at the main parking area, for a checkpoint/split time. After crossing the timing point, Runner #1 will hand their bib belt (relay baton) to Runner #2. Runner #2 then head out toward the upper trails (part 2 of the 50K course).
30K Elevation Gain: 2107 feet


Runners will follow the 50K course until Mile 13.8, at which time they will not come back to the start/finish checkpoint with the 50K runners, but instead will turn left at the Bagwell Creek Bridge on Stonewall Trail and follow the remainder of the Half Marathon Course.
Half Marathon Elevation Gain: 1510 feet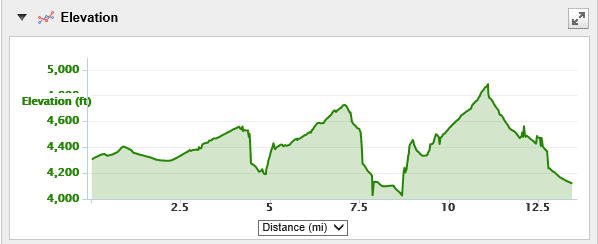 The half marathon course has a mixture of technicality ratings. Approximately 15% miles of the course is wide (>4'-wide) smooth trail. The rest is comprised of single-track, with grassy, smooth underlayment (10%) and rocky, and/or loose surface (75%). Much of the trail includes banked turns, and undulating climbs/descents. The final climb (Heart Attack Hill is 1.4 miles up to the checkpoint before descending the last 2.3 miles to the finish.
4.5-Mile Elevation Gain: 364 feet


The 4.5-mile course circles around and through the lower meadows. While most of the climbing is gentle and slowly gradual, Coyote Bluff is the most distinct climb, coming at approximately Mile 2.6. There is one water drop on the course at mile 3. The 4.5-mile course is low in technicality, with some looser material present while descending from Coyote Bluff.